NAS
Northern Associated Sports Competition
Players of the Match : Kesh Tewari and Thomas Taylor
Mr Galbraith's Team Man Award : Victor Papa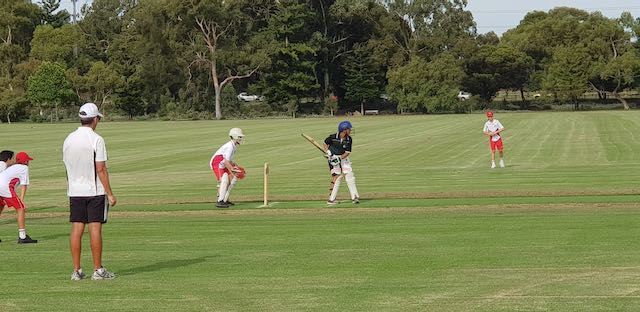 Game 3 Servite v John XXIII College - Match Report
John XXIII 3/76 def Servite College All Out 65
The Servite Yr 7 team were again very competitive losing by 11 runs in the round 3 fixture played at John XXIII oval.
Our top order batting again could have cost us the game with four consecutive ducks only to be rescued by a hard hitting 18 from Thomas Taylor, a return to form from Sahil Mardania 10 and a captains effort from Kesh Tewari with 19no. John XXIII contribution to the sundries was a miserly 8 runs whilst on the adjacent wicket we gave up 24 sundries consisting of an equal number of wides and no balls. .
Our opening bowlers in Thomas Taylor and Kesh Kewari conceded only 5 runs in total in the first 4 overs. We looked on target for an upset victory but could not penetrate the John XXIII opening pair who made a steady partnership of 44. Remember our first 4 batsmen were all back in the pavillion with 0 runs next to their name. We had to wait until the 15th over when our wicket keeper Sebastian Sorta-martens swapped to gloves for the red ball. Sebastian knocked the stumps over with two consecutive balls and narrowly missed a hatrick with the ball squirting past our slips fieldsman. Marco Elgueta looked promising with the ball and both Louis Drum and Harry Waldock attacked the stumps and put down some useful deliveries. A special shout out today to Victor Papa who was the only guy not to get a bat or bowl - Victor even unselfishly carried the team drinks esky back to the bus by himself. This is what I would like to see a few more of you think about. Doing something for others. Thank you Drew Velios for collecting all the cups - boys cricket is a gentlemen's game - let's start acting like it.
We again failed to take our catches and were sloppy in the field that could have produced several run outs.
Our numbers are good, the spirit is positive and if we can bat and bowl well at the same time we may just give Newman College a big fright in our final game.
Team Performance
| | | |
| --- | --- | --- |
| Braydon Nicolaou | 0/8 | 0 |
| Drew Velios | 0/6 | 0 |
| Thomas Taylor | 0/4 | 18 |
| Marco Elgueta | 0/5 | 0 |
| Rueben Davey | 0/10 | |
| Sahil Mardania | 0/6 | 10 |
| Keshav Tewari | 0/1 | 23 no |
| Seth Rapanaro | | 1 |
| Sebastian Di Cesare | 0/14 | 0 |
| Harry Waldock | 0/1 | 11 |
| Angus Manolas | | 1 |
| Sebastian Sorta-martens | 2/12 | |
| Savio Thomas | | 2 |
| Louis Drum | 0/9 | |
| Dennis Jacob | | 1 |
Victor Papa

Logan Sutherland



Thanks to Daniel Demasi for assisting us with gear and batting preparation in today's game.
Next week we have a well earned bye.
Our final match is away to Newman College on 'turf' where we will be going all out for the win!
Game 1 Servite v Chisholm - Match Report
Chisholm College 5/75 from 20 overs defeated Servite College 8/65 from 20 overs
The Servite Yr 7's were very eager and extra keen, we had plenty of chat online and we were aware of the challenge – could we deliver against Chisholm Round 1. It was the biggest squad ever assembled by Servite cricket – well done boys.
At the end of the day we fell just 10 runs short of the victory target – an encouraging effort but one opportunity we may have let slip through our fingers.
The players to perform as far as Servite was concerned were too few – hence our narrow loss.
We sent 10 batsmen to the crease and had 5 record a first up duck. This included our top four batsmen. Our batting horrors was saved by Seb Sorta-Martens making double figures (11) and Harry Waldock (8). Our best friend was Sundries (47)
Our bowling was better with a few of the boys showing good accuracy and with some sharper fielding and less dropped catches we could have all but won the game.
Its fair to say Chisholm were the better team with three batsmen making double figures and 3 of our 5 wickets coming from run outs. The successful wicket takers were Thomas Taylor and Seth Rapanaro. Thomas was the pick of the bowlers and also looked promising as a fielder and wicket keeper. Dhanya Patel 0/5 looked dangerous with his two overs and captain Keshav Tewari was very accurate in the last few overs and deserved a wicket or two. Louis Drum was the fielder of the day taking a spectacular catch as well as encouraging all bowlers and showing that he was a good team man.
Bowling Figures
2 overs
Braydon Nicolaou 0/3
Drew Velios 0/8
Harry Waldock 0/13
Thomas Taylor 1/3
Dhanya Patel 0/5
Rueben Davey 0/7
Sahil Mardania 0/11
Keshav Tewari 0/4
Seth Rapanaro 1/10
1 over
Angus Manolas 0/8
Seb Sorta-Martens 0/2
I also want to thank Mr Stewart who came down and played a big part in game day giving up his free time as well as supplying photos and to your parents who attended - thank you. I think we picked up the pace of the game – next Thursday against Sacred Heart College we will need to be at our best to be competitive.
Game 2 Servite v Sacred Heart College - Match Report
Sacred Heart College 4/72 20 overs defeated Servite College 4/57 20 overs
The Servite Yr 7's put up a spirited challenge in going down to Sacred Heart College by 15 runs in the Round 2 Fixture.
Our batting showed more resilience and led by Harry Waldock (11) and Kesh Tewari (9) the opening partnership of 20 was a highlight of our batting display. The opposition coach had a big shout out for Louis Drum who remained not out with a solid display. Sundries was again a good contributor with 31.
Our bowling stepped up a notch from our round 1 display and perhaps withj some improved catching and fielding with could have restricted Sacred Hearts score of 4/72.We made an improvement with the wides and no balls and our total of 19 sundries was very acceptable.
We had only one player grasp the chances that flew by and that was a sitter taken by Drew Velios from Kesh Tewari's bowling. Harry Waldock managed to rattle the stumps and Sebastian Di Cesare in his first stint at the bowling crease picked up a valuable wicket as well. Dhanya Patel again looked dangerous and gave the ball plenty of flight to create chances. Our opening bowlers in Thomas Taylor and Braydon Nicolau were tight and attacked the stumps.
Team Performance
| | | |
| --- | --- | --- |
| Braydon Nicolaou | 0/6 | |
| Drew Velios | 0/6 | |
| Thomas Taylor | 0/7 | |
| Dhanya Pate | 0/11 | |
| Rueben Davey | 0/7 | |
| Sahil Mardania | 0/13 | |
| Keshav Tewari | 1/3 | 9 |
| Seth Rapanaro | 0/2 | |
| Sebastian Di Cesare | 1/4 | |
| Harry Waldock | | 11 |
| Angus Manolas | | 1 |
| Victor Papa | | 1 no |
| Savio Thomas | | 0 |
| Louis Drum | | 7 no |
| Dennis Jacob | | |
Seba

stian Sorta-martens

Marco Elgueta

Logan Sutherland



We again give a big shout out to Mr Stewart and our Yr 11 mates Nicholas Tahos, Blake Foster and Brooklyn Cvitan who came along to assist in a number of roles.
Next Match we are away to John XXII on Monday - we will be back to Servite around 6.00pm
Snapshots - Game 1
Action v Sacred Heart